Mainland's wind farm sector is dominated by state-backed firms with little foreign involvement

European firms seen as favoured option for green energy build out among China's neighbours
Wind turbines stand along a beach in Miaoli County, Taiwan, on Thursday, July 26, 2018. Since a disastrous 2011 reactor meltdown in Japan, Taiwan has rewritten its energy plans. Photo: Bloomberg
Building a new generation of wind power infrastructure across key economies in Asia could add up to a bonanza for European firms, in a rare instance where state-owned Chinese companies find themselves on the back foot.
Offshore wind farm construction projects, already on the drawing boards in South Korea, Japan and Taiwan, among others Asian economies, are likely to be dominated by foreign engineering firms, which have a lead in terms of skills and project experience, according to the Asia Wind Energy Association.
China's state-owned energy firms, recognised as juggernauts in green energy, seem unable to acquire the foreign expertise needed to scale up for work in neighbouring countries.
Edgare Kerkwijk, managing director at of renewable energy investment firm Asia Green Capital in Singapore, says while the mainland has a big offshore engineering industry, it is geared towards serving the oil and gas sector and does not have the capacity to meet the needs of the rest of Asia.
In some instances, such as Taiwan, which has an ambitious plan to increase the amount of energy from green sources, the mainland's state-owned firms are finding themselves blocked from bidding on projects because of politics.
"There are a lot of offshore wind tower installation vessels in [mainland] China which can be used in Taiwan … but now we see a number of vessels being sent from Europe to Taiwan," Kerkwijk told the Post at the sidelines of a renewable energy conference in Hong Kong last week.
Moreover, European firms could find that they become more competitive as their volume of work in Asia picks up.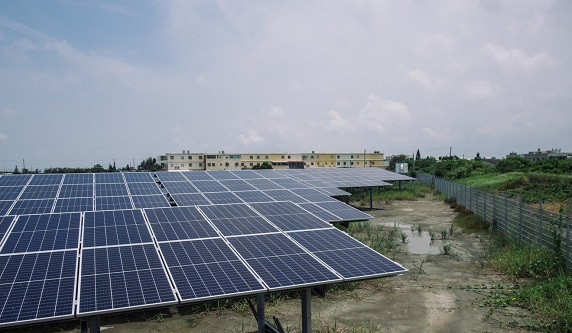 Solar panels stand at a Vena Energy solar-power installation in Yunlin County, Taiwan. Photo: Bloomberg
Undertaking one-off projects in Asia is not something that appeals to European engineering companies, according to ­Kerkwijk, who is also a board member of the Asia Wind Energy Association.
"To send a US$400 million to US$500 million vessel from Europe to do one project is not very efficient," he said.
"In Europe, a Dutch crew or vessel could operate in the UK, then move on to jobs in Denmark and Germany, which makes it very efficient."
Paul Curnow, Asia-Pacific head of renewable energy practice at international law firm Baker McKenzie. Photo: handout
Some 45 gigawatts (GW) of wind farms are expected be erected off the coasts of the mainland, Taiwan, Japan and South Korea by 2027, the Asia Wind Energy Association has projected.
This compares with 4.73GW last year, based on a preliminary tally by the Global Wind Energy Council.
Taiwan is seeking to phase out nuclear power, which generates 19 per cent of its electricity.
Paul Curnow, Asia-Pacific head of renewable energy practice at Baker McKenzie, expects European engineering companies, which have already won sizeable projects in Taiwan, to seek opportunities further afield in the next few years by forming partnerships with various local firms in Japan, South Korea and Vietnam. This will help cut development costs by spreading expenses across various projects.
In contrast, the mainland wind power industry is dominated by state-backed firms, with little foreign participation.
Meanwhile, both mainland and Japanese firms have been investing in European wind farm developers to acquire the skills needed for developing projects, especially more technically challenging ones in deeper seas.
Chinese firms spent US$32.4 billion acquiring 10 European firms with offshore wind power expertise in the three years through December 2018. Japanese firms have spent US$395 million on seven deals during the period, according to Refinitiv.
"That is why we have seen plenty of interest from Chinese and Japanese firms investing in offshore wind projects in Europe," Curnow said. "It not just about getting stable income streams from outside China, it's also about learning."
Posted on by Asia WEA